Everything You Need To Know About Girls' Football Week
Girls' Football Week is a national campaign run by the FA in order to increase the participation of females in the sport. Last year, the week involved 60,000 girls across 1,400 universities, colleges, clubs, and schools nationwide. To inspire more girls, this year the FA has teamed up with Disney to get active and play the sport by doing Disney drills and encouraging them with their characters. There is even a chance for you to get a 20% voucher in Disney stores. Find out how you can get a voucher and get involved with the campaign:
Kent Karate Athlete Wins Bronze At National Championships
When is it?
Girls' Football week is Monday 23rd April- Sunday 29th April.
Who can get involved?
The campaign is aimed at girls aged from 5-11.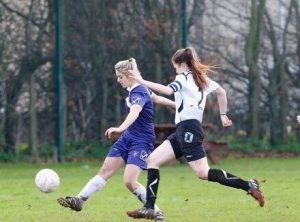 Why is it important?
The representation of women's football is still very negative and with less funding and exposure then mens football, it is important for girls to understand anyone can play. The FA aim to increase the participation of girls by double by 2020. Andy McAllen, head coach of Tunbridge Wells Youth Football Club said:
"Girls should get involved to see just how much fun football can be when playing with lots of other girls, to boost their confidence and to start or continue their journey with football and a healthy lifestyle."
Eleasha Hyner, a BUCS footballer from Loughborough University said: "It's the FA's kind of fault that women's football isn't about anymore because they banned it for 50 years. It's behind so you just need to get girls playing again."
How can people get involved?
There are a number of different clubs and places getting involved with the campaign all over the country which is accessible on the FA website. Below is a map of where and when you can do a Girl's Football week session in Kent.
Dean Gonsalves, Tankerton's U14's girls manager said: "Tankerton FC are joining forces with Rising Stars FC and Females Who Football to hold an event for Girls' Football Week next Monday, 23 April, at Seaview in Whitstable at 5.30pm. 

The growth in the girl's game has been incredible! When I started at Tankerton three years ago, we only had 12 girls playing and one team! Now if you come to training during the week, we have over 70 players"
Julie Harrison, Whitstable Town Junior FC Publicity Officer said: "We are holding our second event for the FA 's Girls' Football Week this coming Saturday, 28th April again at the Belmont. Last time we were starting from scratch. This time round we have a regular turnout of around 14 players each week and we will be holding a special training session for them at the fabulous Belmont ground on the 28th, as well as looking to recruit more players."
What will the sessions be like?
Each session will help to teach basic skills of football. Headcorn FC coach, Ken Doggett said: "The session we are holding is designed to be fun session to get new girls into football. It will be game based training. Each game will aim to develop a different skill ie passing, dribbling, turning, shooting. As they are games as opposed to drills it adds more fun to it and gives the girls a sense of achievement. Girls should attend as football promotes teamwork, a healthy active lifestyle, New friendships a lot of fun."
How can I get a 20% voucher for Disney stores?
The FA said: "Girls who sign-up to take part will be provided with an official FA and Disney participation certificate and a 20 per cent discount voucher to use in Disney stores."
Players: To take part in Girls' Football Week visit TheFA.com/GirlsFootballWeek
Organisers: To host an event for Girls' Football Week visit FAGirlsFootballWeek.com