How food banks are operating during the cost of living crisis
More people nationwide are struggling
In the midst of a cost of living crisis with many of our country gravely suffering due to many prices plummeting, most of us will be or have been affected after the Bank of England issued a warning of the biggest financial crisis in 100 years. Most of us are generally anticipating some level of financial hardships coming.
The most vulnerable members of society will be overloaded with further struggles, due to less people being able to donate to charities and a higher demand overall for food banks.
Food banks demand at an all time high
Nurses are having to access food banks and in some cases ongoing strikes are demanding change for pay and NHS current infrastructure issues.
Meanwhile, The Trussell Trust who are a charity working to stop UK hunger, have reported in the mid year statistics that Food bank usage has gone up 52% since 2019 at the same time of year. More than 320,000 people have had to turn to the network for the first time in the last six months.
One in five people accessing Trussell Trust support are employed.
Support available in the area
In the Canterbury area there are various charities and churches associated with food banks.
The Salvation Army is one of a few, they run a drop in on Tuesday, Friday and Saturday from 10am-2pm. In the drop in people are able to come in for a warm space, hot drinks, food, facilities to charge electronics, Emergency food parcels and referrals to local food banks are also offered.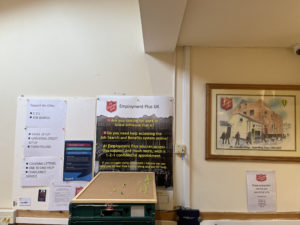 They are also running the annual toy appeal, which allows people to donate to children who will not be receiving gifts this year. Captain Gavin Friday said regarding the appeal:
"We have already had 200 people this year access the toy appeal, and 500 in total who've signed up this year."
He elaborated on what they are currently doing in terms of physically assisting with the drop in but also the employment assistance offered. The service is called Employability Plus UK, importance is stressed on not just providing immediate support, but to get people back on their feet.
Gavin continued:  There are lots of help in the area for people who need it, the problem is many people do not want to reach out usually because of pride."
Further food bank information for Canterbury
On the Canterbury & District food bank page, the Guardian newspaper commented on the situation while working with them for the day:
"Soaring inflation is not just hurting the finances of local residents, it is having a dramatic impact on those of the food bank. Demand for its food parcels is at a record high and it has gone from spending nothing on groceries to £3,000 a month to cover the shortfall in donations." We spent the day with the Guardian, discussing our work and the cost of living crisis."
The Canterbury & District food bank has been updating social media asking for donations and listing what they are largely needing from people.
Canterbury Rotary has expressed on the 14th of December that the food bank is experiencing 'unprecedented demand' just two weeks before Christmas.
Items needed at the moment:
Here is this weeks most needed items for #FoodBankFriday

Tinned ham
Long life fruit juice (apple/orange)
Tin carrots
Tinned peas
Tin sweetcorn

Please download our app to stay up to date with items we are running low on https://t.co/dYeH28xG5e

Thank you for the support pic.twitter.com/8qMZD3o8jb

— Canterbury FoodBank (@FoodBankCBury) December 16, 2022