Is the coronavirus a blessing or curse for the natural world?
Humanity is in lockdown, as wildlife creeps back into cities around the world. The alternative universe of humans in captivity while animals are free to roam around is something we could have never imagined. Though difficult to adapt to, staying home may play a part in the reason British wildlife begins to thrive.
Herds of deer galloping around areas of east London once brimming with people and peacocks trotting up a Kent high street has certainly been bringing joy to households across the UK. But hope has also been restored by ecologists that lockdown will act in reviving the British countryside.
While the goats in Llandudno are getting all the publicity, how about a shout out for these deer who have colonised the empty streets of Harold Hill in east London? pic.twitter.com/sOZs4Tqf25

— Billy Bragg (@billybragg) April 1, 2020
Ecologist James Rich from Tonbridge was pleasantly surprised when his parents sent him a picture of a roe deer spotted in their front garden, just miles from the A21, one of the busiest roads in the South East. He said: "Fewer people, fewer dogs off the lead and fewer cars means some wildlife is having a chance to spread out again.
"Also, for instance, hedgehogs may be getting a bit of a reprieve this spring, since road deaths and agricultural intensification are the two main threats to this species."
A roe deer spotted in my parents' front garden in Kent. I never saw any signs of them in that area growing up. It's probably been able to move freely now that the A21 dual carriageway is, i assume, much quieter. I wonder what other wildlife is spreading around more? pic.twitter.com/Dap5U7JnVo

— James R (@jam_rich1) April 25, 2020
The deer aren't unique in dominating areas they were shunned away from pre-coronavirus.  Animals across the world are reclaiming cities in lockdown, as a result of less human activity. A fishing ban in Istanbul introduced as a result of the virus has led to dolphins swimming through the fish-rich waters between Europe and Asia. Jellyfish have also been spotted in the now-clear Venice canal, since the Italian city locked down at the beginning of March.
But while most of us are enjoying seeing the animals revel in their newfound freedom, the reappearance of the many animals back into British wildlife could potentially pose a threat to them. Mr Rich explains how wildlife criminals could take advantage of the quieter countryside to shoot the wild animals.
"We've already seen a number of birds of prey found shot illegally in the UK. Places like Malta and Lebanon, which already have an issue with over-harvesting wild birds are seeing their annual massacre continue with fewer police monitoring their activity."
Aside from this, he believes certain species could overall benefit from the lockdown rules, including barn owl. The bird suffered a drop of two-thirds in its population since the 1930s due to modern agricultural practices wiping out vast amounts of their prey of mice and voles.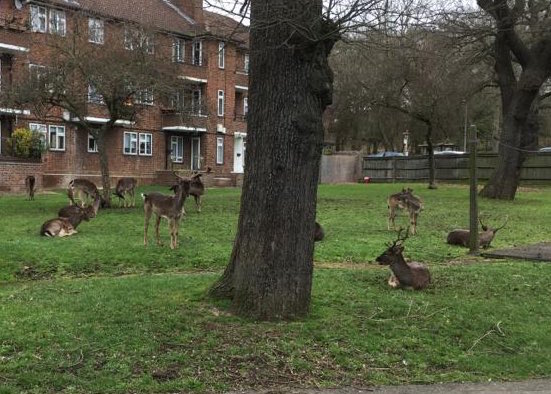 He told The Canterbury Hub: "Barn owls might have a better year because they tend to get hit by cars quite often. So if this situation translates to fewer cars in the long term, that's one species that could benefit a bit."
Photo credit: Tom Green