KCC pledge £2k to accessible festival for disabled people
Festability, an event for those with disabilities, has received a financial boost from the local government for their second annual event.
Kent County Council's £2,000 grant will provide a quiet zone with sensory lights, a changing places suite, as well as British Sign Language interpreters and festival staff.
The single-day spectacle will return on May 11 in Birchington's Quex Park after last year's successful launch, that saw almost 2,000 people attending.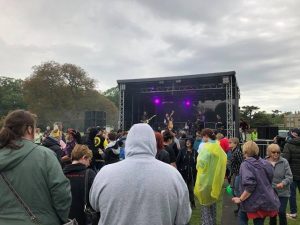 Mark Walker, the council's assistant director for disabled children and young people said that the biggest challenges that disabled people face is accessibility.
Walker said: "Disabled people should be able to go out in their communities to socialise and live as independently as possible.
"This is why events like Festability are a great asset for people living with disabilities and I am pleased we are once again able to support them this year."
Manager of Special Needs Advisory and Activities Project, Carrie Wood, helped to organise the festival and hoped to give her son and others like him, the opportunity to experience the festival environment in an accessible space.
Wood said: "Last year we were overwhelmed by how many people attended and how much they enjoyed it, this has really highlighted the demand for a fully inclusive music festival which everyone can attend and enjoy being part of."
This accessible setting was launched by parents and carers of those who live alongside disabilities in their day-to-day lives, giving the opportunity to enjoy a fun and musical day out.
Tickets cost as little as £15 per person and for more information about Festibility click here.