Kent Police volunteer awarded MBE
A MBE has been awarded to a volunteer appropriate adult from Tonbridge.
The man was present at over 1,700 police interviews with young and vulnerable people over a 12 year period working with Kent Police.  He supporting children taken into custody, as well as adults with learning difficulties.
Earlier this year Mr Barmby was awarded an MBE in the Queen's Birthday Honours for his 'Service to Policing and the Community'.
He volunteered as an appropriate adult between 2003 and 2015 and regularly performed this role for children's charity The Young Lives Foundation.
On Wednesday 22 November Mr Barmby visited Buckingham Palace to receive his MBE from Prince William.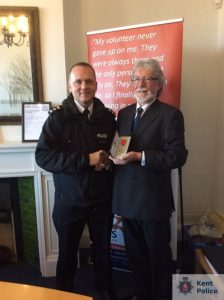 The following day he then met with Kent Police Chief Inspector Dave Pate and Young Lives Foundation Chief Executive, Stephen Gray.
Chief Inspector Dave Pate said: 'Chris Barmby has provided a tremendous contribution over many years, not only to Kent Police, but to countless young people and his local community.

'Appropriate adults perform a vital role in being readily available to assist with the needs of children and vulnerable people, of whom many arrive in custody without a responsible adult, such as a family member or guardian. Those in custody may need the help of someone who is available to attend and ensure they understand their rights and what officers are telling them.

'The likes of Mr Barmby sacrifice their own free time to attend police stations at all hours and they remain a key component in ensuring the smooth running of the custody function.'