Parking tickets in Tonbridge on the rise
The number of parking fines issued in Tonbridge and Malling has rocketed in the last four years, a Freedom Of Information Request has revealed.
The district has made over £200,000 from Parking Charge Notices (PCNs) so far this calendar year, with nearly 7,500 handed out up to 1 November.
It means that there has been over a 150% increase in fines issued compared to 2015's 2,937 PCNS, with Christmas expected to increase numbers even further.
Nicholas Heslop is the transportation manager in the district. He said: "The Borough Council has increased the number of Civil Enforcement Officers it employs in response to public demand, and there have also been changes to the Borough Council's enforcement procedures and more effective ways of working.
"The Council's Parking Enforcement team cover the whole of the Borough and experience significantly different enforcement issues in rural villages from the urban environment of Tonbridge.
"It is difficult to identify specific locations where the most Penalty Charges are issued, but the Council's on-street parking enforcement activities are intended to support the main purposes of keeping traffic moving and maintaining road safety."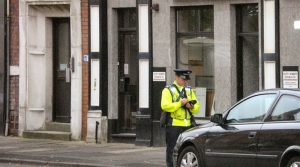 Traffic wardens are issuing more tickets.
Credit: Gerald England
Outside of London, a parking fine costs either £50 or £70 depending on its reason, and these figures are halved if a person can pay within 14 days of being notified.
With the price of a ticket remaining the same for a number of years, it means the cost of a fine hasn't affected the amount of income generated.
Figures in 2017 showed that the council generated a record-high of £320,000 from PCNs, with nearly 12,000 fines being issued in this period.
This is a 57% increase from 2016 and a 303% increase from 2015, meaning the number of fines has increased each calendar year from 2015 – 2017, with 2018 still able to break records further.