Sittingbourne fencing company provides 'holistic support' for young offenders
Trinity Fencing CIC was launched with an aim of helping young men better their lives through soft approach rehabilitation and recently won an award for their work.
In an exclusive interview we spoke to Simon Gadd, the director of the construction company to discuss the success of Trinity's goals.
Mr Gadd was urged by a friend to participate in a mentoring scheme for young offenders at HMP Cookham Wood 3 years ago, with the attitude of only visiting a few times.
"The boys are given the tools to succeed in life"
After his experience at the prison, Simon found that approximately 80% of the 18 to 24-year-olds there wanted the same thing: "They wanted a job that gave them purpose, good accommodation for them, their partner and kids, as well as guided advice in life.
"We set up Trinity 3 to 4 years ago as a vehicle to achieve the social objectives of helping those men just released from the system."
Today's lesson gate hanging 101 pic.twitter.com/QCDLJzOTEB

— simon gadd (@GaddSimon) April 15, 2016
Soon after launching the company, a wider net was cast for men with a number of different problems to be employed through 2-year apprenticeships.
"It's not just young offenders, there are homeless, people with mental health issues and some with severe learning disabilities.
"We've had 10 lads, some who went on to other work and some who became fully qualified. We have only had one person go back inside, because of their mental health.
"The boys are given the tools to succeed in life. They're equipped with clothing, vocational qualifications at NVQ level 2, they're taught to drive and taught the trade."
Read more from The Canterbury Hub: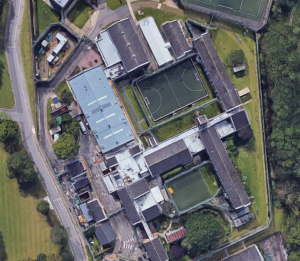 Simon was focused on developing their company to eventually purchase accommodation to house more disadvantaged men.
He continued: "Just having our positive influence has helped these guys a lot. Before, if they had a problem with normal employment, a chair would go through the window and their boss would be ripping the contract up – but here, we talk through it all, mentor their troubles and get it sorted."
"You have to celebrate the successes. Some can be small and infrequent, but they're still successes"
Apprentices are taught the specialist trade of security and commercial fencing with the hopes that they are able to maintain full-time work in future to support themselves and a family.
Alongside all of the help Trinity Fencing CIC provides each person is able to experience more socialisation and physical exercise outdoors.
After discussing the workforce, we asked if more companies should be implementing the scheme and Mr Gadd admitted that some companies are hiring young offenders, however lots of companies don't because it "can be a hit and miss".
Simon continued to explain that it was a lot of hard work: "You have to celebrate the successes. Some can be small and infrequent, but they're still successes. The skill levels and challenges facing each guy changes from person-to-person but I think we need a more holistic approach to people that are damaged by their circumstances.
"We need more empathy, more training, more time invested in each person to peel back the layers and find out what the problems are."