We tried one of the best rated buffets in Kent
We tried one of the biggest and best rated buffet restaurant in Kent that serves food from across the globe. Eat your heart out – literally! 
Spoons World Buffet in Medway, Kent has been labelled one of the biggest and best buffets in the county. The restaurant describes itself as a 'Self service buffet restaurant serving Chinese, Indian, Sushi, Teppanyaki, Roast Grill, Dim Sum, Pasta/Pizza and wide range of desserts/pancakes'.
Priced at £13.99 on weekdays and £14.99 for weekends (Friday-Sunday), we'll give you a run down on whether this all-you-can-eat buffet is worth it.
We'll be reviewing Spoons based on the four criteria: Variety, Quality, Cleanliness and Cost.
Variety: 5/5
We couldn't have asked for more when it came to variety. The room was filled with food from across the world, however, asian cuisine dominated. But that's only expected as British culture associates buffets with Chinese food. You'll find two rows dedicated purely to Asian food (Chinese, Thai, Vietnamese). But you'll also get a pizza bar, a curry bar where you can order fresh naan bread, a Dim Sum bar with fresh meat dumplings and wonton soup.
That's not the end of it: there's an awesome Teppanyaki grill where you can order raw chicken, steak, lamb, prawns, crab, scallops – and they will cook it right in front of you so you KNOW it's fresh. You can only order three assortments of meat at one time but you can go back as many times as you want.
In case you're bored of the usual Chinese dishes… They also have a revolving sushi bar with freshly made sushi. However, choices here are limited and the quality of the rice could be better.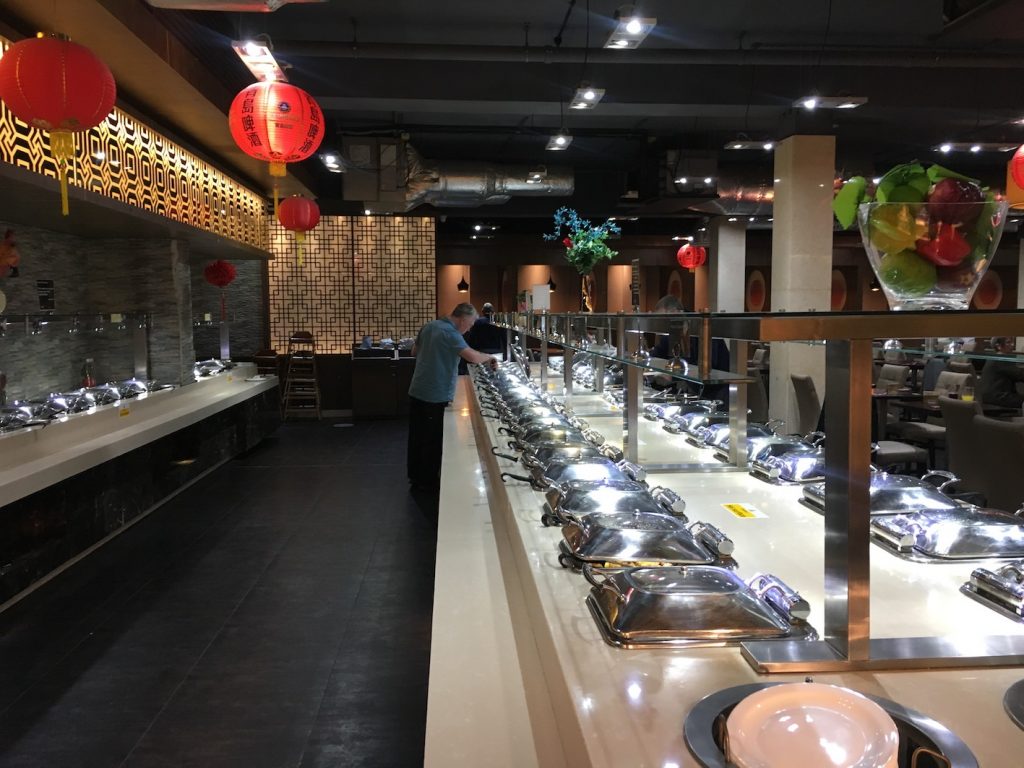 There's also a salad bar but we'll skip that for obvious purposes.
Moving onto dessert, let me just list it out so you know exactly what we're dealing with here: Crepe bar (made to order crepes for you), a bakery with mini desserts like carrot cake, peanut butter cookie dough, mini brownies etc. They also have a milk chocolate and a white chocolate fountain where you can drip marshmallows in. They also have a freezer for ice cream in case what you weren't satisfied with all the other options. Oh, they also have a chilled section where they keep fresh fruit, huge cakes, eton mess and chocolate-drizzled profiteroles.
Overall, we couldn't have asked for a wider variety of food.
Quality: 3.5/5
If we had to judge every single dish based on quality, we must admit that it could be better. They're not shy when they add meat into their dishes, there's so much of it! However, when meat sits around the hot tubs for a while, they can get tough. There were a few instances where the meat could've been softer IF it was fresh. But this was only the case with the chicken dishes – the seafood, duck, and beef were all good enough to not realise that it's been sat there for a few hours.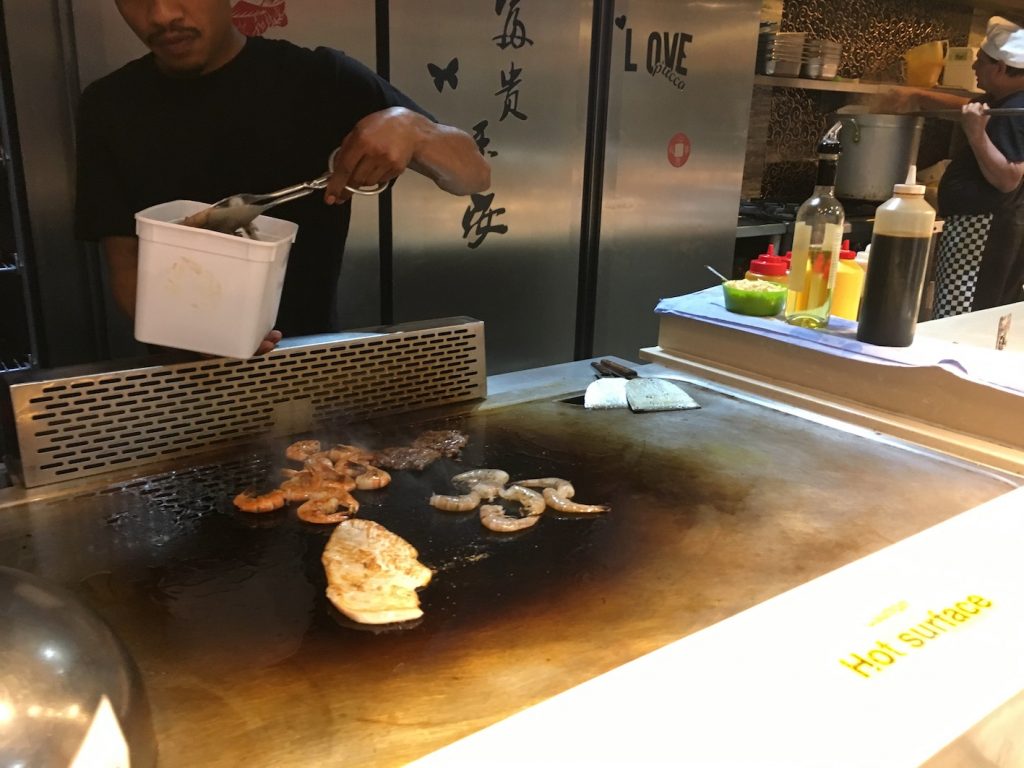 The meat they served at the Teppanyaki bar was outstanding. With the exception of the lamb which was too boney, everything else was at a good standard for a £13.99 buffet.
It's important to note that you cannot come to a budget buffet and expect fine-dining quality food – but for £13.99, it definitely exceeded our expectations.
Cleanliness: 3/10
The staff tried as hard as they could to make sure the food which fell on the tables or floors were swept up and cleaned within minutes. Everything looked cleaned from what we were able to see, we had no real concerns about hygiene.
However, it's worth pointing out that the plates could be a bit cleaner. They weren't filthy but they could be cleaning. You could tell they needed another dry wipe – but a minor point that doesn't overshadow the rest of the positives.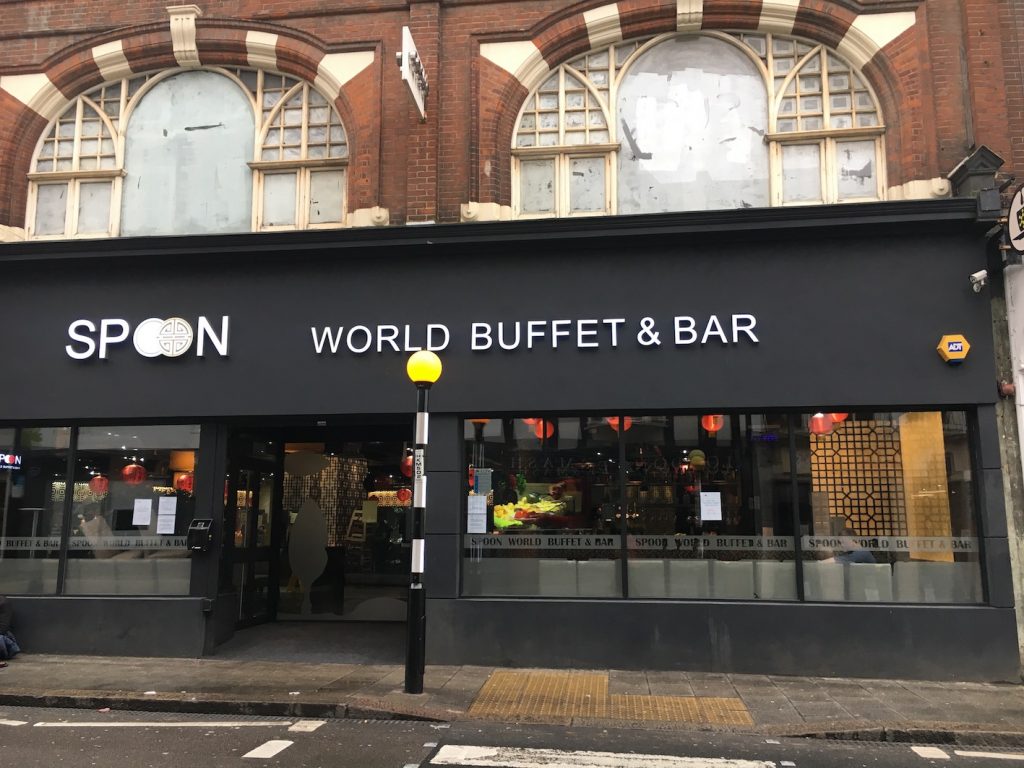 Cost: 5/10
At £13.99 for a Thursday evening dinner, it was well worth it. Considering all the choices you have, there will always be something there which you will LOVE. Some dishes are a hit and miss but if you're looking to try out a variety of cuisines from around the world: this Medway gem is the place to go.
£13.99 is a reasonable price with all the fresh food you could get – and they're not bad quality too!
Overall verdict
We would highly recommend trying out Spoons World Buffet at least once. It's a food trip worth experiencing that will not leave you out of pocket. Don't walk in with high expectations, but for the price and variety, it's well worth the trip.