A Better Medway: Your new source of daily activities.
Finding something to keep ourselves busy every day is a challenge that we are all facing as the lockdown continues. From baking to board games, the nation's been trying it all. If you're struggling to find things to keep you entertained, this Facebook page may just have the answers.
More and more services are embracing the power of the internet and social media to give help and support to their communities. A Better Medway brings daily activities and content for the residents of Medway to take part in, from simple cooking recipes, exercise help and even guidance for those who are currently trying to quit smoking, the page has it all! The group is currently helping over 3,000 followers find new activities to do from their homes.
Ta da! ? We're really excited to share our new timetable of online #health and #wellbeing activities!

From family cooking and exercise, to lifestyle #hacks, we've got you covered.

See you on Monday for #Mindfulness with Ange!

? https://t.co/dQZ6LzQ23Q pic.twitter.com/fURYtn5TPW

— A Better Medway (@ABetterMedway) April 17, 2020
A Better Medway also operates on Twitter and can be followed at @ABetterMedway
The page was created by Medway Council with the goal to promote healthy lifestyles in Medway as part of the Better Medway initiative, and has been focused on delivering useful content during the challenging times brought by the COVID-19 pandemic. The page states:
"We run free, first class health and well being services for Medway. During COVID19 we'll be sharing updates, how to stay well and lots and lots of positivity.
"A Better Medway is the face of health improvement in Medway and provides specialist support, advice, programmes and resources to help people living or working in Medway improve their health and well-being."
Looking for more online communities to help during the lockdown, click here to learn about some more Medway based internet groups! 
The group also has a very large focus on not just physical health, but mental health also. With the impact of the lockdown and issues created by the current coronavirus crisis, it more important than ever to keep a check on our mental well-being and offer assistance to those who may need some support during these difficult times.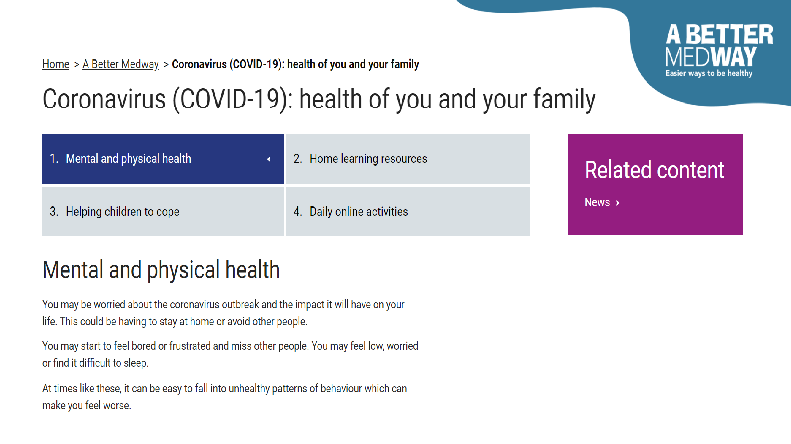 Be sure to visit the page here for new ideas and daily activities to keep you and your family entertained during the Lockdown or check their website for more information and support.