Residents left without electricity following Ashford explosion
Residents of Willesborough, Ashford, are experiencing a disruption to their power supply after the house explosion this morning (May 4).
The incident, which happened on Mill View, left two people with serious injuries and they were taken to a London Hospital for treatment.
Five other people were treated locally for less serious injuries.
Emergency services had to rescue a number of people from the rubble caused by the explosion. At 11:30am all residents close to the blast were accounted for.
— Martin (@martin466004) May 4, 2021
Dramatic scenes as the explosion was caught on a neighbours Ring doorbell camera.
The large police and emergency presence on Osbourne Road. Credit: Chantal Weller
Seven fire engines, Kent Police, the hazardous area response team, sniffer dogs, the air ambulance and gas engineers were all dispatched to the scene to combat the blaze, which has since gone out.
Kent Police officers are now trying to determine the cause of the explosion, with officials at this stage not treating it as suspicious.
Roads remain to be closed, with no estimate for when the area will be cleared of emergency services. Residents have been told to expect disruptions to their power as a result of the incident.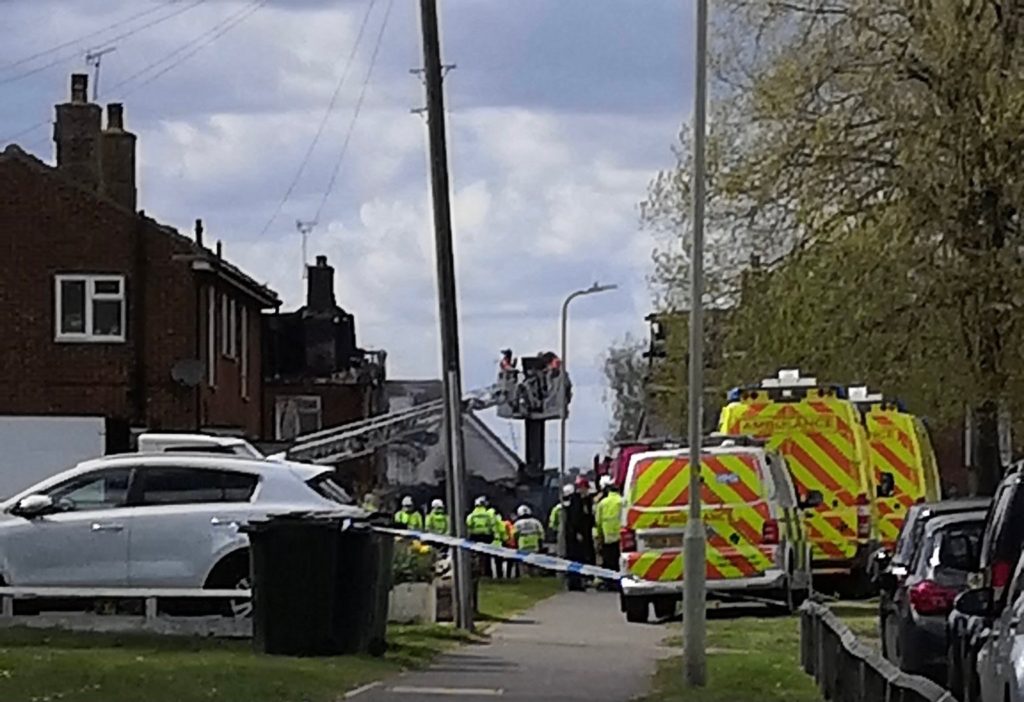 A police spokesman added: 'Work is now underway to ensure the area is safe and utility companies are at the scene.
'Part of this work may result in some residents experiencing intermittent power disruption.
'Police are asking anyone who experiences issues and requires assistance to contact their power company or an officer at the scene.'
@Lord_Willesboro on Twitter told the Canterbury Hub that SGN and UK Power Network engineers were in the area waiting to make repairs to the gas and electricity supplies.
He said: 'We've got no electricity at the moment. We're on UKPN's priority register and they've been in touch every hour or so updating us.
'If we're not reconnected by 8pm tonight they'll try and sort something out for us.'
Mill View, just off of Osbourne Road in Willesborough, were the blast occurred. Credit: Google Maps
Kent County Council has set up a 'reception centre' to support those affected, with The Salvation Army also setting up a centre in the local village hall to offer support.
A JustGiving page has been set up by local resident Ben Farnham to help those affected by the explosion, a link to which can be found here.