Explainer: What are food banks and why do people use them?
Food banks are coming up a lot more in conversation recently due to the drastic increase in the cost of living.
They are there to help households who are struggling to feed themselves as a result of low income.
What are food banks?
Food banks are non-profit organisations run by local volunteers who give free food to those within their community in need.
They offer food parcels to low income couples, families and single parents who need it to feed their household.
They are around to help feed the local community who can't afford to buy themselves food.
Staff working at food banks also offer advice on income and how to spend your money.
The food that is given out is donated by the public through food collections by charities such as Salvation Army or donated straight to the food bank.
What foods do they give out?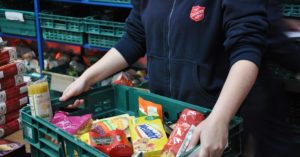 Food banks hand out non-perishable foods. This includes:
Pasta
Pasta sauces
Rice
Cereal
Soups
Beans
Tinned vegetables
Lentils
Tinned meat
Fruit juice
Baby food
Tea
Coffee
Biscuits
Not only do they give food, but also essential items such as toiletries including toothbrushes, toothpaste, shower gel, and shampoo.
Food banks also give out sanitary towels, tampons, nappies, laundry detergent, baby wipes and face-masks.
Why are people using food banks more?
People are struggling to afford basic necessities like food due to the increase in bills as well as other essentials.
Gas and electric prices have risen as well as council tax, rent and food prices.
📣 Did you know that nearly half of people referred to food banks in our network are in debt to the government?

We've been working closely with people who have experience of being in #Debt to the government. Here's four things we learnt 👉 https://t.co/Wc2zpLuYWA pic.twitter.com/4ZXdxalYXF

— The Trussell Trust (@TrussellTrust) April 18, 2022
Families are struggling to keep afloat with the new prices and food banks can help them out to give a few days of emergency food.
How do I know if I'm eligible to use a food bank?
You can check you're eligible to use a food bank through the Citizens Advice website.
They would generally make an appointment with an adviser to talk about your financial situation and give you information on your local food bank.
They will also talk about your needs such as how many people you need to feed within your household, whether you need any baby food, if you have any dietary requirements and if you're claiming any benefits.
The adviser will then refer you to a food bank and give you a food voucher if you are eligible.
Another way to get a referral for a food bank is to go through an organisation you're already with such as a charity, school or a children's centre.
You can also go through your local council and ask how you could get a referral.
What are food vouchers?
When applying for a referral, once accepted you will receive a food voucher which will give up to three days minimum of emergency food.
The food voucher will have any dietary requirements for members of your family as well as how many people are in your household.
You will need a food voucher for each time you go to the food bank.
Where can I donate food?
You can donate at your local supermarkets, churches or charities.
They generally have a trolley or large bin where you can put your donations into that will be sent over to the local food banks.
Places such as Tescos and Waitrose accept food donations or you can donate straight to your nearest food bank.