7 reasons to get involved in local sports
The road map to recovery from the Covid-19 pandemic has brought its first major changes to restrictions.
The new rules have made many welcome changes like reintroducing the rule of six, but the reopening of outdoor sports facilities and the return of organised sport while keeping everyone safe is definitely the biggest change to date.
With daily walks and 5k challenges now behind us it's great to see a return to some form of normality.
Although, sports won't immediately be a welcomed return by all, there's no better time to for people of any age to get involved with their local clubs.
Here's 7 reasons why you should get involved in local sport.
1. Mental health
Recently, there's been plenty of research into the positive impact of physical activity on mental health. Whether it's improving your mood, increasing self-esteem, physical activity can lead to a better and more balanced lifestyle.
Praises from coaches, finishing a tough training session or being part of a crucial winning game can be great a confidence boost.
Finding a sport, you are passionate about can be great motivation and give you something to focus on if you have a hard week ahead.
"Sport has the power to raise physical and mental wellbeing. I'm delighted to see the #EFL partner with @MindCharity to use football to increase awareness of this important issue."@DCMS' Tracey Crouch supports the #EFL's new partnership with Mind >> https://t.co/YkurvVWFet pic.twitter.com/tM7CTtK75m

— EFL (@EFL) February 22, 2018
2. Physical health
Possibly the most obvious benefit from taking part in local sport is the impact on physical health. The regular challenge from sports will only help your muscles grow and improve their performance.
If you have the opportunity to take part and live a fit and healthy lifestyle, why not take that chance?
3. Interaction with others widening social circles
Sports bring a variety of people from different backgrounds and communities together; it can be a fantastic way to meet people outside your regular social circle.
Particularly with local sport it's very easy to become a big part of your local community as this will be many peoples main interaction until more travel restrictions are eased.
We can't thank the volunteers of grassroots football enough for all they've done!🙌

Tell tell them how much they mean to you.

Thank them and Nominate your #GrassrootsHeroes 👇https://t.co/lI5wy4Ta96 pic.twitter.com/iZyqgbaT5D

— Kent FA ⚽ (@KentFA) April 24, 2021
4. Easy to get involved as a volunteer
It is easier than ever to get involved with your local teams, whether it's on the pitch or helping out with training it's a great time to try out.
Unless you want a technical role it's unlikely any specialist knowledge will be needed, if there's an interesting club or event near you, they would probably welcome the support.
Specific sports have also benefitted from having their own governing bodies and the resources they offer can be great places to start your journey.
5. When better to try new things?
As the first lockdown taught many of us there's no better time to try new things.
Whether this involved pushing yourself to the limit in your daily exercise or dipping your toe into the culinary world with a loaf of banana bread, everyone found something new to enjoy to pass the time.
As organised sport returns what have you got to lose by spending time with your local sports teams.
6. Reducing stress
Unlike watching sports, taking part can be a big help in reducing stress levels.
This is because exercise increases endorphin production, the body's natural mood elevator and it also allows for the release of the stress hormones adrenaline and cortisol.
The relaxation or "runners high" will make finishing that tough workout worthwhile!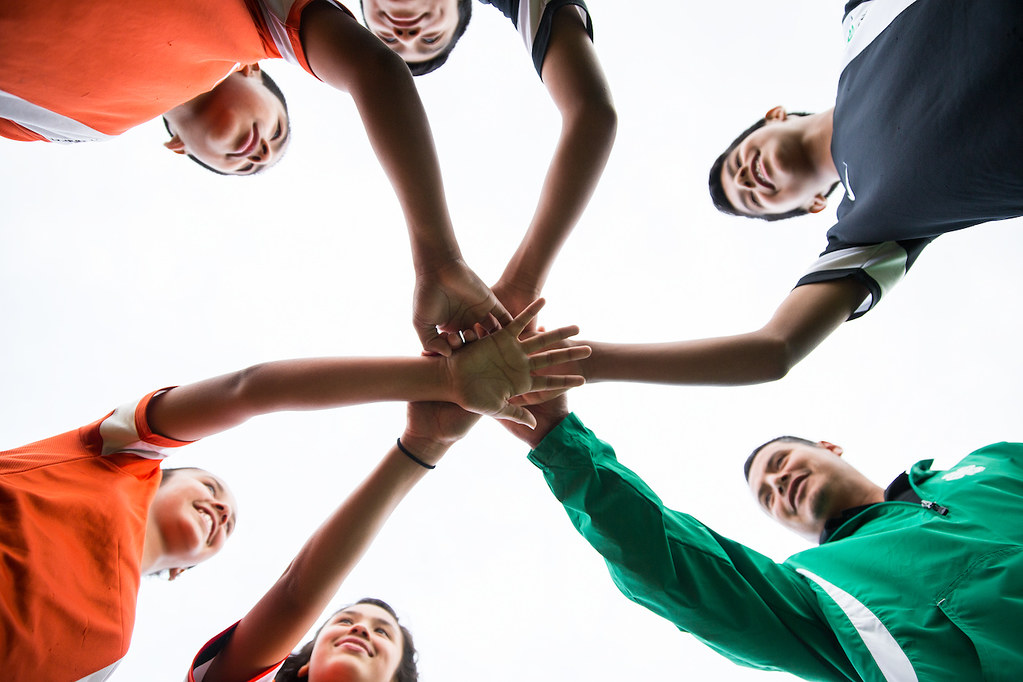 7. Great skills for your everyday life
A great motivator in sport can be developing skills you use elsewhere in your everyday life without even realising.
An obvious one would be teamwork, as sports will demonstrate how much you can achieve with your team whether it's delivering an important presentation or working together to achieve a vital result on the pitch, none of it would be possible without teamwork.
Working effectively under pressure can aid you in dealing with problems in a hectic office but also be the key to making the right call on the pitch. Whether you like it or not sports are everywhere!
Featured image credit: Flickr